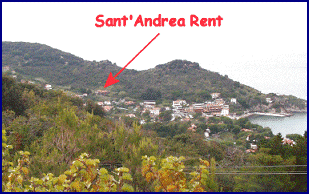 The new and stylishly furnished flats are situated on the ground floor of an independent house in the area of Sant'Andrea, about 150 metres from the sea. Guests have the use of a private parking place and can enjoy the spacious garden. The house in its charming natural surroundings sits near the top of a granite cliff and creates a calm, relaxing holiday atmosphere in one of the most beautiful areas of the National Park of the Tuscan Archipelago. Its welcoming disposition together with its tranquillity are a guarantee for a pleasant and comfortable stay.
There are two flats, both for 4 people, with a beautiful sea-view.

Guests of Sant'Andrea Rent can enjoy a holiday in harmony with nature without having to give up any of the fun. Right here in Sant'Andrea you can find restaurants, bars, a well-equipped beach, boats, dinghies and pedal boats to hire along with other activities and services.