By car or motorbike...
FROM THE NORTH:
Genoa-Livorno motorway, Rosignano exit.
Then follow the Livorno-Grosseto main road until reaching Venturina.
Piombino is just a few minutes drive from here.
FROM THE NORTH-EAST:
Bologna-Florence-Pisa-Livorno motorway, Rosignano exit.
Follow the Livorno-Grosseto main road until reaching Venturina, 15 km from the port of Piombino.
FROM THE SOUTH:
Rome-Grosseto motorway, continue along the Aurelia until the Venturina-Isola d'Elba exit.
(www.autostrade.it)
By train...
you need to get to the Campiglia Marittima station, from Campiglia Marittima take a regional train for Piombino Marittima, from Piombino Marittima catch the ferry to Portoferraio (www.trenitalia.com)
Once you have reached Piombino Marittima...
...take a ferry for Portoferraio. The crossing takes around 1 hour. Two ferry companies are available, Toremar and Moby Lines, each with its own ticket office located at the port of Piombino Marittima. When you have arrived in Portoferraio proceed to Marciana, crossing through Procchio and Marciana Marina. If you do not have a car you can hire one; you could also catch a local bus or take a Taxi, both within the immediate vicinity of the Port and therefore easy to get to on foot.
La Casa Vacanze Sant'Andrea Rent è situata nella pittoresca baia di Capo Sant'Andrea, in una posizione panoramica e tranquilla.
Sant'Andrea può essere considerato una magnifica insenatura incastonata in una costa verdissima, dove acque trasparenti delimitano bianche scogliere alternate a zone di finissima sabbia granitica.
La struttura consente un soggiorno all'insegna del relax totale, circondata da scorci naturali bellissimi e situata a picco su una delle scogliere granitiche più belle del Mediterraneo.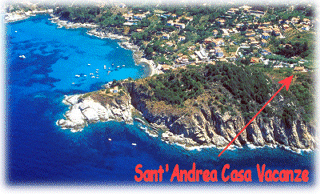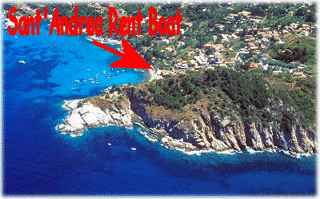 Il Noleggio imbarcazioni Sant'Andrea Rent, situato presso la lingua di sabbia, offre spiaggia attrezzata, noleggio di gommoni, barche e pedalò.
Con pochi minuti di navigazione, Sant'Andrea Rent offre la possibilità di raggiungere ottimi punti di immersione, spiagge e calette isolate e incontaminate per trascorrere piacevoli giornate fuori dalla confusione e scoprire bellezze, in altro modo irraggiungibili, dell'Isola d'Elba.